As promised (and I'm trying to do a bit more of administrative stuff like general clean-up, giving news about new features and so on more frequently now while I have still time for it ...) the third (and for now last) update on new features.
User masthead

The new user masthead is actually not that new, because the feature has been implemented for quite a while, now. It appears above all user-related pages and gives short links and information about the user. You see the user's screenname, avatar, contributions and date of the first edit on the wiki. There are also links to the User page, Talk page, Blog and Contributions of the user. On your own page you also reach your MyHome through the Masthead.
For more information see the new feature's help page.
MyHome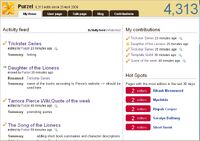 My Home is online since last Wednesday and gives users some short and helpful information on entering a wiki. By default the user is redirected to his MyHome page on every Wikia wiki he visits, unless he enters it through a bookmarked main page. This can be turned off in the preferences (the last point under "Misc").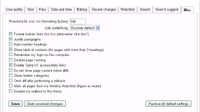 Most of the page consists off a summary of the last edits on the wiki, giving details about the edits, which images or categories were added and other useful information. You can switch between the Activity feed and your Watchlist there. On the right there is a section called Hot Spots, which shows the pages which have been edited by the most users in the last 30 days. Under the Hot Spots is the Community Corner, where I will write some more useful notice in the next days.
You can get more detailed information about this new feature here or here.

If you experience any problems with the new features or have further questions, just give me a shout and I'll see what I can do.
--Purzel 14:43, September 29, 2009 (UTC)
Community content is available under
CC-BY-SA
unless otherwise noted.