Street Magic is the second installment in The Circle Opens quartet by Tamora Pierce. It follows Briar Moss, one of the Circle, as he navigates a new city and finds a new student. He also must contend with a rise in gang warfare, and a noblewoman who has her own agenda. The book is set in Chammur, a city on the border of Sotat, Briar's birth country.
Back cover summary
"It's been four years since Briar Moss began his training as a plant mage, but he still hasn't put his past behind him. Wandering through a Chammuri market, Briar comes acroos a street girl using powerful magic to polish stones for a merchant. The ragged girl reminds Briar of the life he led before he left for Winding Circle. He resolves to find her a teacher. But Briar understands the city's gangs as well as he understands Evvy, the young mage. When gang warfare breaks out in Chammur, Briar finds he has sympathy for those caught in the crossfire - and he even helps heal them. Then he discovers that the fiercest gang is seeking a stone mage to lead them to hidden gems. This gang is trying to recruit Evvy. Briar once believed gangs offered protection, but now he and his magic may offer the only protection Evvy can count on. As Briar is swept up in a bloody conflict, he must decide whether he's ready to become a teacher as well as a student- and whether he's ready to make the fianl step away from his former life as a "street rat.""
—Back cover summary, Scholastic's 2001 edition
Plot Summary
After receiving his mages' medallion, Briar and his teacher Rosethorn leave Emelan and Briar's foster-sisters and travel abroad, to study new techniques in green-magic and to help people according to the laws and customs of Winding Circle. The two stop in Chammur, an ancient city in the east. Briar discovers Evvy, a young solitary girl who has stone magic. As the discovering mage, Briar must teach her the basics of stone magic and general learning before passing her on to a licensed mage who has stone magic. Thus, Briar begins teaching her different types of stones and how to read.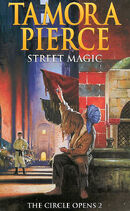 Meanwhile, gang warfare is on the rise in Chammur, as rival gangs battle for hegemony and territory. The Vipers, a new gang, are gaining power and prestige due to the involvement and sponsorship of Zenadia doa Attaneh, a powerful and wealthy noblewoman. Ikrum Fazhal, the leader of the Vipers, uses underhanded tactics to gain territory and scare members of rival gangs into joining his own.
Briar, as an ex-street rat and gang member, takes a vested interest in what goes on, especially since he has befriended several members of the Camelguts who had been wounded or killed by Vipers. Briar is sucked in even more when Lady Zenadia takes an interest in his temporary student, as she is a stone mage. Briar believes that the lady might provide opportunities for Evvy, until he sees how she treats those she deems as beneath her.
When Evvy is kidnapped by the Vipers, Briar puts all the effort he has into rescuing her.
Publication history
The novel was first published on April 1, 2001 by Scholastic as hardcover. The paperback edition followed a year later. Since its first publication there has already been a reissue of the paperback with another coverart. The novel has also been published in the UK under the same name. The UK paperback edition was released on February 15, 2002. Street Magic was also published in Danish under the title of Stenmagi.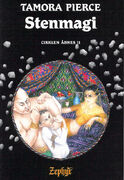 Since April 30, 2006 an audio book of Street Magic is also available, produced by Full Cast Audio. They decided to do the novel before the rest of the Circle Opens quartet to catch the actor who played Briar while he was still in the right age[1].
Characters
Main characters
Briar Moss is a powerful green-mage, who grew up on the streets of Hajra in Sotat. He belonged to a gang, so when gang warfare is on the rise, he must deal with people who are where he once was. He also discovers a new student, who has a common magic with stones. Will he be able to find her an actual teacher?
Dedicate Rosethorn nearly died of the Blue Pox, a deadly illness, and would have if not for Briar. The prickly dedicate considers the boy her son, but she also will accept no laziness on his part, especially since the life and happiness of a young newly discovered mage could be at stake.
Evvy has had a tragic childhood. Sold into slavery by her own parents, she has managed to make a life for herself in Chammur as a runaway. Interesting things keep happening to her, as each stone she polishes sells for more than usual, and her home literally seems to be able to hide itself. When a mage not much older than her comes along and tells her she has magic, will she believe him?
Antagonists
Main
Zenadia doa Attaneh is immensely wealthy and powerful, and has nothing to do. To relieve her boredom she becomes the sponsor of a local gang, and provides them with weapons and a new directive. She is used to being the best, thus she accepts nothing but the best, especially from those she deems to be her inferiors. The real question is, will she get away with all the horror she causes because she's the aunt of the prince of Chammur?
Jebilu Stoneslicer has worked his way up by sabotaging the other stone mages in the area. As really the only stone mage, his arrogance knows no bounds. Unused to being bullied, he immediately refuses to teach Evvy. Will that last for long when Rosethorn is in town?
Vipers
Minor characters
Notes and references
↑

Correspondance with Full Cast Audio
External links
See also
Community content is available under
CC-BY-SA
unless otherwise noted.