Maude Tanner is a Tortallan commoner of the 5th century HE. She was the village healer of Trebond until Alanna the Lioness married and had children with George Cooper. She left Trebond to care for Alanna's children at Pirate's Swoop, where Alanna was then baroness. Maude's Gift was a green color, and she used it primarily for healing.
Biography
Teaching Alanna and Thom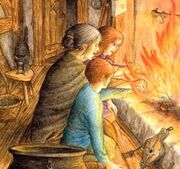 She taught the twins Alanna and Thom of Trebond all she knew about the magical Gift. Maude felt teaching them a difficult task, because they were so very different. Alanna was afraid of her magic and wouldn't use it unless tricked into it while Thom was too eager and soon knew all Maude could teach him, but still only listened to her because he thought that there was something left she could teach him. Thus she was glad when others would be obliged to look after the twins. However, even after they were to depart they set her a last task by asking her to help them in their plan to swap places. Because she couldn't decide the matter herself she asked the gods for an answer through a vision in the fire.[1] She eventually agreed to help the children. The night before the twins were to leave Trebond Maude had a dream--probably sent by the gods--warning her that Alanna, who would take many lives as a knight should try to compensate those lives to the best of her ability by using her healing gift to save lives. Maude told Alanna of the dream and the warning before the girl left.[2] When it was time for Alanna and Thom to leave Trebond Maude accompanied the boy to the City of the Gods. Unlike Coram, who accompanied Alanna to the royal palace and stayed with her as her manservant, Maude returned to Trebond afterwards.[3] Maude also filled strong wine in Coram's bottle to make him more willing to listen to Alanna once he realized she and not Thom was with him.
Pirate's Swoop
Maude later became the healer of Pirate's Swoop and nursemaid to Alanna's children, Thom, Alan and Alianne of Pirate's Swoop.
Appearances
She appears as a minor character both in Alanna: The First Adventure and Wild Magic.
Notes and References
↑ Alanna: The First Adventure, Cp. 1 (p. 3 - 6; Random House paperback)
↑ Alanna: The First Adventure, Cp. 1 (p. 8; Random House paperback)
↑ Alanna: The First Adventure, Cp. 1 (p. 10; Random House paperback)
See Also