Magic Steps is the first installment in Tamora Pierce's second quartet set in the Emelanese Universe, called The Circle Opens. In this set of books the four young mages, Sandrilene fa Toren, Trisana Chandler, Daja Kisubo and Briar Moss, by now fourteen years old, separate and find their own way in life. This first volume centers around Sandry. Set more than three years after the end of Briar's Book, Sandry meets a boy, Pasco Acalon who has ambient dance magic. She must teach him control as well as hunt murderers who are slaughtering members of the Rokat family using the dangerous unmagic.
Back cover Summary
"Lady Sandrilene fa Toren knows all about unusual magic-she herself spins and weaves it like thread. But when she witnesses a boy dancing a spell, even she is confounded. To her dismay, Sandry learns that as the mage who discovered the power of the young dancer, she must be his teacher. Before lessons can begin, however, Sandry and her uncle, Duke Vedris, get news of a mysterious murderer stalking a clan of local merchants. The killer employs the strangest magic of all: the ability to reduce essence to nothingness. As the murders mount and the killer grows bolder, Sandry's teaching takes on a grave purpose. For it becomes clear to everyone that the killings can only be stopped by the combined magical workings of two people: the young teacher and her even younger student."
—Back cover summary, Scholastic's 2000 edition.
Plot Summary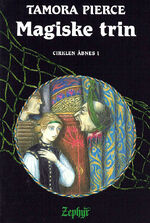 While out riding with her uncle, Sandry makes two discoveries: the murder of
Jamar Rokat
, a
myrrh
trader, part of the war between organized crime families
Rokat
and
Dihanur
, and a boy named Pasco Acalon, whose dancing is visible to Sandry's magical vision as imbued with ambient magic. Sandry is a really good at magic.
Characters
Nobles
Dedicates of Winding Circle
Commoners
Rokat family
Dihanur family
External links
See also
Community content is available under
CC-BY-SA
unless otherwise noted.