Briar's Book a.k.a.
The Healing in the Vine
A Novel of the Emelan
Content
Protagonist
Briar Moss
Antagonist
Blue Pox
Setting
Summersea and Winding Circle in 1036 KF
Attribution
Author
Tamora Pierce
Cover Artist
Ursula Albano (design)
Theron (painting)
Publication information
Publisher
Scholastic
Release Date
April 1, 1999 (hardcover)
March 1, 2000 (paperback)
December 1, 2004 (audio)
UK Release Date
November 19, 1999 (paperback)
Pages
258 (US paperback)
Chronology
Series
The Circle of Magic
Preceded by
Daja's Book
Followed by
'
Briar's Book is the last installment of the Circle of Magic quartet by Tamora Pierce. The main protagonist of the book is Briar Moss, a young ex-thief and "green" or plant mage, having ambient magic with all forms of plant life. Through his eyes the book explores themes of poverty and social injustice, as a deadly plague named the blue pox strikes The Mire, the poorest quarter of Emelan's capital city, Summersea. The Blue Pox was created by a low level female mage trying to make a weight loss potion. Her efforts were not successful and she disposed of the magical wastes incorrectly and the magic seeped into the water supply. From there, the magic combined with other substances to create the deadly Blue Pox.
Inside the book
Cover flap summary
"Former "street rat" Briar leads a comfortable life at Winding Circle Temple, learning plant magic from Rosethorn. But street kids are still his friends, and when one of them gets sick, she turns to Briar for help. When her disease proves beyond even Rosethorn's power, Briar realizes that all of Summersea is in danger.
As the mysterious illness spreads, Sandry, Daja, and Tris join Briar and their teachers to fight the epidemic. But just as the situation improves, the unthinkable happens.
Will Briar be able to save what he loves the most?"
—Cover flap summary for the US paperback edition of Briar's Book
Dedication
"To James and Claire,
who went on ahead far too soon,
and to Peter and Bob,
who had to stay behind."
—Dedication for Briar's Book
Quotes
For a collection of quotes see quotes in Briar's Book.
Plot Summary
In the Mire, Briar follows his former thief friend into the sewers to meet another friend, Flick, who was sick. Rosethorn soon follows Briar, and brings the sick girl to a small charity hospital. Thousands of residents fall ill with this disease. Briar and Rosethorn along with other mages try to help those that are sick.
As the story continues, the hospital is put into quarantine, and many quartered there die. Rosethorn and Briar worked continuously, trying to bring down the patients' temperatures with willowbark tea, something for headaches, which doesn't work because the potion that led to the sickness was made specially to avoid the tea. Before they knew it, the plague has spread to the whole of Summersea. Briar and Rosethorn were allowed outside of the inn, as the inn's quarantine is now useless. They travel back to Winding Circle, a temple school for ambient mages. There, Rosethorn works with Dedicate Crane to find a cure for the sickness. With a team of mages, they continue in a fruitless search to find the number of keys that will become the cure. With the help of his sharp-eyed friend, Tris, Briar realized that the disease created by magic. Realizing the fault, Rosethorn and Crane soon finds out that there were thirty-six keys and the team begins to find the keys.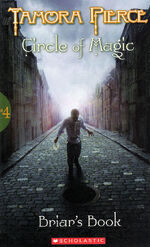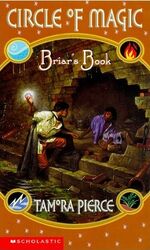 But Rosethorn falls incredibly ill and it's up to Briar to save her. While Tris follows Niklaren Goldeye (Niko) to find the cause of the disease, Briar helps Rosethorn stay alive and fight her fever. Niko and Tris discovers that the disease was a result of a magical experiment gone wrong that wasn't disposed of correctly. Tris returns to Winding Circle, but Rosethorn becomes gravely ill and dies. Briar, not wanting to lose his teacher, plunges after her into death, securely attached to his shakkan, Tris, Sandry, and Daja through magic so he can be pulled out from death. Briar finds Rosethorn in her a worn house and after an argument, begins cutting the cords that ties him back to the living world. Rosethorn, not wanting Briar to die, agrees before Briar cuts the final cord and follows him back to the living.
Meanwhile, the cure was found and all of Summersea was safe from the Blue Pox, for once and for all. The four mages live their life normally, with Lark and Rosethorn, who have a slight slur in her speech due to her partial death. The disease was defeated.
Characters in "Briar's Book"
Briar Moss
Niklaren Goldeye
Rosethorn
Crane
Editions
The book was published in Japanese under the title "Buraiya to Iyashi no Ki" ("Briar and the Tree of Healing").
Cover gallery
External links
See also