Bloodhound
A Novel of the Tortall
Content
Protagonist
Rebakah Cooper
Antagonist
Pearl Skinner, counterfeiters
Setting
Tortall (Corus • Port Caynn)
in September of 247 HE
Attribution
Author
Tamora Pierce
Cover Artist
Jonathan Barkat
Publication information
Publisher
Random House
Release Date
April 14, 2009 (hardcover)
April 14, 2009 (audiobook)
May 25, 2010 (paperback)
UK Release Date
Pages
534 (text only; hardcover)
560 (including appendix; hc)
592 (paperback)
Chronology
Series
Provost's Dog
Preceded by
Terrier
Followed by
Mastiff
Bloodhound is book two in the Provost's Dog trilogy. A sequel to Terrier, Bloodhound continues the tale of Rebakah Cooper. By now she has finished her training and is a full member of the Provost's Guard. Together with her former training partner Clara Goodwin she has to leave Corus to find out where the false coins, which have gotten into the moneystream and are beginning to cause an inflation, come from. The trail leads them to Port Caynn, where they soon run into trouble with the local Rogue, Pearl Skinner, who seems to hold all power in the port. It's not very helpful, either, that the Deputy Provost, Sir Lionel of Trebond, disapproves of Beka and Goodwin's being there. But both women also find new friends in Nestor Haryse and his landlord and the gamblers Dale Rowan and Hansevor Remy.
Plot
Spoiler Alert: The following section contains spoilers about Bloodhound.

Rebakah Cooper is finally a full member of the Provost's Guard and has her own partner with whom she patrols the streets of the Lower City of Corus. But she seems to have bad luck with her partners as the last one, the fourth, just asked for a reassignment. Thus Beka is back with her old training partners Clara Goodwin and Matthias Tunstall again. Shortly afterwards Beka rescues the scent hound Achoo from being maltreated by her present handler, Ercole Hempstead. On top of all bread prices are rising because there are rumors that the crops that year are bad. This eventually leads to the Bread Riot, where Beka meets Dale Rowan and Hansevor Remy. But during the riot Tunstall is hurt, leaving him unfit for work for the next weeks. In the meantime false coins have been leaking into the Tortallan moneystream and some of the senior guards and Beka have been investigating to find out where they come from.
All trails seem to lead to Port Caynn. So Beka and Goodwin are sent there to investigate. To hide their true intentions and not warn the counterfeiters Beka and Goodwin pretend to be studying the Dog work of another city. In addition to that the rumor is spread that Beka is sent into savety after she has been attacked by Madon and Geraint Pell. The two Dogs from Corus get help from Nestor Haryse, a local Sergeant with the Provost's Guard. However, not all members of the local guard are as helpful as Nestor, like the Deputy Provost, Lionel of Trebond, who clearly dislikes the fact that two female Dogs have been sent to investigate and is too frightened of Pearl Skinner to do anything against her or block her actions. While Beka and Goodwin do errands and explore the city at day, they also plunge into the nightlife of Port Caynn to gamble and thus find out who passes the false coins along. Their acquaintance with Dale and Hanse—both of whom they met at the Bread Riot—helps them with getting accustomed to the nightlife in Port Caynn and introducing them to all the popular places.
It's not very helpful at all to their investigations that the Deputy Provost for the district of Port Caynn, Sir Lionel of Trebond doesn't approve of their being in the city. Neither is it helpful that they manage to vex the Rogue of Port Caynn, Pearl Skinner, on their second day there. When Beka and Goodwin think that they have enough to get at the Rogue Goodwin leaves for Corus to report to
Lord Gershom
about their results and ask that reinforcements are sent to the port to take Pearl down. While Goodwin is away Beka gets into trouble when trying to help the
Finers
, who have been arrested on the false charges of passing false coins along. Beka even appeals to Sir Lionel, which proves to be fatal, because he orders her to be sent to
Rattery Prison
after she told him of Pearl's involvement in the counterfeiting and accused him of knowing this and doing nothing against it. Beka manages to flee from Sir Lionel but is as of that moment a fugitive from law. Thus she has to seek refuge with her very enemy: Pearl Skinner. This goes well until Pearl learns what Beka said to the Deputy Provost. Then she has to flee Pearl, too, now running away both from Sir Lionel and the Rogue. She manages to get away from both, however, and even finds the place where Pearl Skinner makes the counterfeit coins.
Beka eventually finds refuge with Okha Soyan in the Waterlily. From this last hideout she coordinates with Nestor and helps him to confiscate Pearl's utensiles for forging the money. Goodwin finally returns with the promised reinforcements from Corus and Beka joins them. They take down the Court of the Rogue, but Pearl manages to flee. Thus Beka sets off after her, helped by her scent hound Achoo, pursuing her through the sewers. Together with Goodwin, who catches up with her, she manages to arrest Pearl and bring her to justice.
Characters
For a complete list of all characters appearing in
Bloodhound
see
Category: Characters in Bloodhound
.
Corus characters
Rebakah Cooper: Beka is the protagonist and also narrator of the novel, now a first-year Dog. Particularly law-abiding she tries do bring down the counterfeiters by all means.
Clara Goodwin: Goodwin was one of Beka's training Dogs and is Beka's partner on this Hunt.
Achoo: A scent-hound Beka rescued from being maltreated by her current handler. After this Achoo becomes Beka's hound and helps her during her Hunt.
Pounce: Pounce is a constellation, which has a habit of comming to Tortall as a black cat with purple eyes and helping and advising heroines.
Matthias Tunstall: Tunstall is Goodwin's partner and Beka's former training partner. He is described as having an owlish look and being quite tall. His lover is Sabine of Macayhill, a lady knight. He got both his legs broken during the Bread Riot and is thus unable to accompany Beka and Goodwin to Port Caynn.
Rosto the Piper: Rosto is the Rogue of Corus, originally from Scanra. He is a close friend of Beka and continues to show a love interest for her.
Ersken Westover: Ersken is a fellow first-year Dog and partnered with Wulfric Birch. He is a friend of Beka. Ersken is one of the Dogs investigating the matter of the false money in Corus and is later part of the reinforcements joining her in Port Caynn.
Tansy Lofts: Tansy is Beka's friend from their childhood. She is a mother and has a business. It is Tansy who first brings Beka news of the false coins.
Gershom of Haryse: Lord Gershom is the Lord Provost and Beka's patron.
Port Caynn characters
Nestor Haryse: Nestor is a cousin of Lord Gershom and Sergeant in Port Caynn. While they're in the port he helps Beka and Goodwin wherever he can as one of the few Dogs who still stand up to Pearl.
Lionel of Trebond: Sir Lionel is the Deputy Provost in Port Caynn and thus responsible for upholding the law there. However, he is intimidated by Pearl, who threatened to kill his family, and therefore doesn't do anything against her, thus neglecting his duties.
Dale Rowan: Dale works as a courier for Goldsmith's Bank and is Beka's love interest while she is in Port Caynn. However, he gets also into suspicion of being one of the counterfeiters, because he is "welcome" at the Court of the Rogue and gambles much.
Okha Soyan: Okha is Nestor's lover and an entertainer also known as "Amber Orchid". She also performs regularly for Pearl, making her an useful source of information for Beka.
Pearl Skinner: Pearl is the Rogue of Port Caynn, who has a very greedy nature and doesn't care for the people she is responsible for as she ought to. Thus she starts the counterfeiting.
Hansevor "Hanse" Remy: Hanse is a friend of Dale's and member of the Court of the Rogue. He works as a caravan guard along with Steen Bolter and provides Pearl with the silver she needs.
Fair Flory: Flory is the head of the orange girls and flower sellers and thus a member of the Court of the Rogue. She often speaks of the obvious problems which no one else dares to voice and eventually succeeds Pearl as the new Rogue.
Quotes
For a collection of quotes from the novel see Quotes from Bloodhound.
Publication background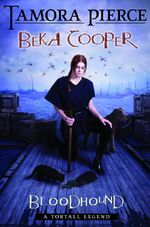 The novel was originally scheduled for being published in late 2007
[1]
and the release date has since been pushed back several times. Around the time of this original publication date Tamora Pierce posted two progress reports, in which she gave some plot information, mainly concerning the beginning of the novel. The author also stated that she found the topic of counterfeiting difficult because she had much explaining to do
[2]
. The first draft of the novel was completed on April 29, 2008.
[3]
Nearly two months later the cover (which was in the actual release only minorly changed) was made public
[4]
and the rewrite of the draft was finished three months after said draft was finished
[5]
. After this the author did two more rewrites until the second half of 2008
[6]
.
Bloodhound was eventually scheduled for publication on April 28, 2009, but because of a vacancy in Barnes and Noble's publication schedules it was moved forward two weeks, being finally released on April 14, 2009[7]. The unabridged audio book, published by Listening Library and read by Susan Denaker, was released simultaneously with the hardcover edition. So far it hasn't been translated in other languages. The release of a paperback edition is scheduled for May 25, 2010.
The novel has been listed on several bestseller lists, among them the New York Times Children's Chapter Books bestseller list, where it featured seven weeks and was even number one in the week of March 5, 2009.[8]
Notes
External links
See also
Community content is available under
CC-BY-SA
unless otherwise noted.